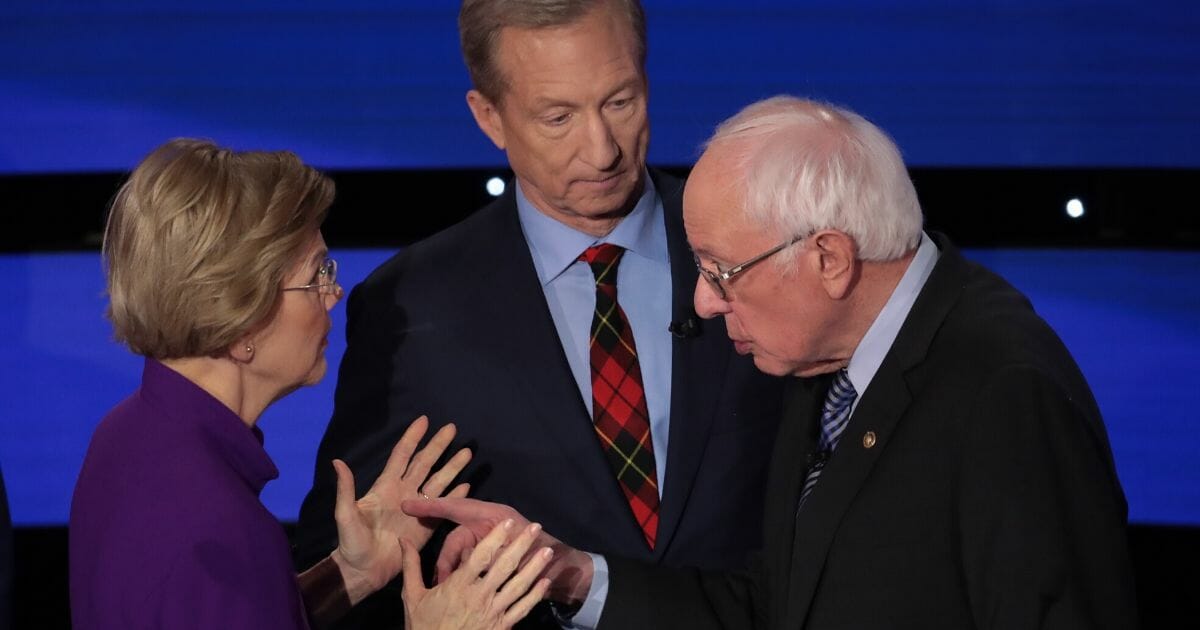 The end of Tuesday night's Democratic presidential debate featured what appeared to be a testy exchange between Vermont Sen. Bernie Sanders and Massachusetts Sen. Elizabeth Warren.
The progressive senators have been at odds this week, after CNN reported Monday that Sanders told Warren in a private December 2018 meeting he did not believe a woman could win the presidential election.
Sanders, for his part, has vehemently denied the report's claims.
","rendering_script":"(function() {rnvar referer="";try{if(referer=document.referrer,"undefined"==typeof referer||""==referer)throw"undefined"}catch(exception){referer=document.location.href,(""==referer||"undefined"==typeof referer)&&(referer=document.URL)}referer=referer.substr(0,700);rnvar rcds = document.getElementById("rcjsload_503882");rnvar rcel = document.createElement("script");rnrcel.id = 'rc_' + Math.floor(Math.random() * 1000);rnrcel.type = 'text/javascript';rnrcel.src = "https://trends.revcontent.com/serve.js.php?w=110580&t="+rcel.id+"&c="+(new Date()).getTime()+"&width="+(window.outerWidth || document.documentElement.clientWidth)+"&referer="+encodeURIComponent(referer);rnrcel.async = true;rnrcds.appendChild(rcel);rn})();"}]},"BA1":{"ad_type":"custom","custom_ads":[{"code":"
rn
","rendering_script":"let fbs = document.createElement( 'script' );rnfbs.src = 'https://connect.facebook.net/en_US/fbadnw60-tag.js';rnfbs.async = 'async';rndocument.head.appendChild( fbs );rnwindow.ADNW = window.ADNW || {};rnwindow.ADNW.v60 = window.ADNW.v60 || {};rnwindow.ADNW.v60.slots = window.ADNW.v60.slots || [];rnwindow.ADNW.v60.slots.push({rntrootElement: document.getElementById( 'fb_ba1' ),rntplacementid: window.innerWidth > 943 ? '1521975967886043_2493230114093952' : '1521975967886043_2262514003832232',rntformat: 'recirculation',rnttestmode: false,rntonAdLoaded: function(rootElement) {rnttconsole.log('Audience Network [ba1] ad loaded');rnttrootElement.style.display = 'block';rnt},rntonAdError: function(errorCode, errorMessage) {rnttconsole.log('Audience Network [ba1] error (' + errorCode + ') ' + errorMessage);rnt},rntrecirculation: {rnttdesktop: {rntttlayout: 'grid'rntt}rnt}rn});rnrnlet rcs = document.createElement( 'script' );rnrcs.src = "http://www.westernjournal.com///assets.revcontent.com/master/delivery.js";rndocument.body.appendChild( rcs );"}]},"BB1":{"ad_type":"dfp_prebid"},"IC4":{"ad_type":"dfp_prebid","lazy_load":"yes","size_mappings":[{"screen_width":"944"},{"screen_width":"468","creative_sizes":[{"size":"468x60"},{"size":"336x280"},{"size":"300x250"}]},{"screen_width":"1","creative_sizes":[{"size":"300x250"},{"size":"320x100"},{"size":"320x50"}]}],"bidders":[{"name":"appnexus","device_category":"mobile","adyoulike_placement":null,"appnexus_placementid":"13210086","audiencenetwork_placementid":null,"audiencenetwork_format":null,"ix_siteid":null,"justpremium_zone":null,"onedisplay_placement":null,"onedisplay_network":null,"onedisplay_bidfloor":null,"pubmatic_publisherid":null,"pubmatic_adslot":null,"rubicon_accountid":null,"rubicon_siteid":null,"rubicon_zoneid":null,"sovrn_tagid":null,"triplelift_inventorycode":null,"underdogmedia_siteid":null},{"name":"ix","device_category":"all","adyoulike_placement":null,"appnexus_placementid":null,"audiencenetwork_placementid":null,"audiencenetwork_format":null,"ix_siteid":"193609","ix_size":[{"size":"300"},{"size":"250"}],"justpremium_zone":null,"onedisplay_placement":null,"onedisplay_network":null,"onedisplay_bidfloor":null,"pubmatic_publisherid":null,"pubmatic_adslot":null,"rubicon_accountid":null,"rubicon_siteid":null,"rubicon_zoneid":null,"sovrn_tagid":null,"triplelift_inventorycode":null,"underdogmedia_siteid":null},{"name":"ix","device_category":"all","adyoulike_placement":null,"appnexus_placementid":null,"audiencenetwork_placementid":null,"audiencenetwork_format":null,"ix_siteid":"193609","ix_size":[{"size":"336"},{"size":"280"}],"justpremium_zone":null,"onedisplay_placement":null,"onedisplay_network":null,"onedisplay_bidfloor":null,"pubmatic_publisherid":null,"pubmatic_adslot":null,"rubicon_accountid":null,"rubicon_siteid":null,"rubicon_zoneid":null,"sovrn_tagid":null,"triplelift_inventorycode":null,"underdogmedia_siteid":null},{"name":"ix","device_category":"all","adyoulike_placement":null,"appnexus_placementid":null,"audiencenetwork_placementid":null,"audiencenetwork_format":null,"ix_siteid":"193609","ix_size":[{"size":"468"},{"size":"60"}],"justpremium_zone":null,"onedisplay_placement":null,"onedisplay_network":null,"onedisplay_bidfloor":null,"pubmatic_publisherid":null,"pubmatic_adslot":null,"rubicon_accountid":null,"rubicon_siteid":null,"rubicon_zoneid":null,"sovrn_tagid":null,"triplelift_inventorycode":null,"underdogmedia_siteid":null},{"name":"ix","device_category":"mobile","adyoulike_placement":null,"appnexus_placementid":null,"audiencenetwork_placementid":null,"audiencenetwork_format":null,"ix_siteid":"193609","ix_size":[{"size":"320"},{"size":"100"}],"justpremium_zone":null,"onedisplay_placement":null,"onedisplay_network":null,"onedisplay_bidfloor":null,"pubmatic_publisherid":null,"pubmatic_adslot":null,"rubicon_accountid":null,"rubicon_siteid":null,"rubicon_zoneid":null,"sovrn_tagid":null,"triplelift_inventorycode":null,"underdogmedia_siteid":null},{"name":"ix","device_category":"mobile","adyoulike_placement":null,"appnexus_placementid":null,"audiencenetwork_placementid":null,"audiencenetwork_format":null,"ix_siteid":"193609","ix_size":[{"size":"320"},{"size":"50"}],"justpremium_zone":null,"onedisplay_placement":null,"onedisplay_network":null,"onedisplay_bidfloor":null,"pubmatic_publisherid":null,"pubmatic_adslot":null,"rubicon_accountid":null,"rubicon_siteid":null,"rubicon_zoneid":null,"sovrn_tagid":null,"triplelift_inventorycode":null,"underdogmedia_siteid":null},{"name":"pubmatic","device_category":"all","adyoulike_placement":null,"appnexus_placementid":null,"audiencenetwork_placementid":null,"audiencenetwork_format":null,"ix_siteid":null,"justpremium_zone":null,"onedisplay_placement":null,"onedisplay_network":null,"onedisplay_bidfloor":null,"pubmatic_publisherid":"158410","pubmatic_adslot":"ic4_wj","rubicon_accountid":null,"rubicon_siteid":null,"rubicon_zoneid":null,"sovrn_tagid":null,"triplelift_inventorycode":null,"underdogmedia_siteid":null},{"name":"adyoulike","device_category":"mobile","adyoulike_placement":"ef97821da14cf68280b3753700b2f714","appnexus_placementid":null,"audiencenetwork_placementid":null,"audiencenetwork_format":null,"ix_siteid":null,"justpremium_zone":null,"onedisplay_placement":null,"onedisplay_network":null,"onedisplay_bidfloor":null,"pubmatic_publisherid":null,"pubmatic_adslot":null,"rubicon_accountid":null,"rubicon_siteid":null,"rubicon_zoneid":null,"sovrn_tagid":null,"triplelift_inventorycode":null,"underdogmedia_siteid":null},{"name":"adyoulike","device_category":"desktop","adyoulike_placement":"a6eb36eafde18e502d323b8e4c2f80da","appnexus_placementid":null,"audiencenetwork_placementid":null,"audiencenetwork_format":null,"ix_siteid":null,"justpremium_zone":null,"onedisplay_placement":null,"onedisplay_network":null,"onedisplay_bidfloor":null,"pubmatic_publisherid":null,"pubmatic_adslot":null,"rubicon_accountid":null,"rubicon_siteid":null,"rubicon_zoneid":null,"sovrn_tagid":null,"triplelift_inventorycode":null,"underdogmedia_siteid":null}],"repeating":true},"SB5":{"ad_type":null},"WP1":{"ad_type":"dfp_prebid","size_mappings":[{"screen_width":"1","creative_sizes":[{"size":"1x1"}]}]},"SA1":{"ad_type":"dfp_prebid","size_mappings":[{"screen_width":"944"},{"screen_width":"350","creative_sizes":[{"size":"320x100"},{"size":"320x50"},{"size":"1x1"}]}],"bidders":[{"name":"appnexus","device_category":"mobile","adyoulike_placement":null,"appnexus_placementid":"14827619","audiencenetwork_placementid":null,"audiencenetwork_format":null,"ix_siteid":null,"justpremium_zone":null,"onedisplay_placement":null,"onedisplay_network":null,"onedisplay_bidfloor":null,"pubmatic_publisherid":null,"pubmatic_adslot":null,"rubicon_accountid":null,"rubicon_siteid":null,"rubicon_zoneid":null,"sovrn_tagid":null,"triplelift_inventorycode":null,"underdogmedia_siteid":null},{"name":"pubmatic","device_category":"all","adyoulike_placement":null,"appnexus_placementid":null,"audiencenetwork_placementid":null,"audiencenetwork_format":null,"ix_siteid":null,"justpremium_zone":null,"onedisplay_placement":null,"onedisplay_network":null,"onedisplay_bidfloor":null,"pubmatic_publisherid":"158410","pubmatic_adslot":"sa1_wj","rubicon_accountid":null,"rubicon_siteid":null,"rubicon_zoneid":null,"sovrn_tagid":null,"triplelift_inventorycode":null,"underdogmedia_siteid":null},{"name":"triplelift","device_category":"mobile","adyoulike_placement":null,"appnexus_placementid":null,"audiencenetwork_placementid":null,"audiencenetwork_format":null,"ix_siteid":null,"justpremium_zone":null,"onedisplay_placement":null,"onedisplay_network":null,"onedisplay_bidfloor":null,"pubmatic_publisherid":null,"pubmatic_adslot":null,"rubicon_accountid":null,"rubicon_siteid":null,"rubicon_zoneid":null,"sovrn_tagid":null,"triplelift_inventorycode":"WesternJournal_SA1_mobile_320x50_hdx","underdogmedia_siteid":null},{"name":"adyoulike","device_category":"mobile","adyoulike_placement":"3bd609e9e2f28698c0d8999c14572120","appnexus_placementid":null,"audiencenetwork_placementid":null,"audiencenetwork_format":null,"ix_siteid":null,"justpremium_zone":null,"onedisplay_placement":null,"onedisplay_network":null,"onedisplay_bidfloor":null,"pubmatic_publisherid":null,"pubmatic_adslot":null,"rubicon_accountid":null,"rubicon_siteid":null,"rubicon_zoneid":null,"sovrn_tagid":null,"triplelift_inventorycode":null,"underdogmedia_siteid":null}]}},"ad_type":"dfp_prebid","use_fixed_containers":"yes","lazy_load":"yes","scaling_sheet_id":"0","use_sx_units":"yes","replace_ict":"document.querySelector( '.article-extras.trending' ).outerHTML = '
'; (function (d,s,n,id) { var js, fjs = d.getElementsByTagName(s)[0]; if (d.getElementById(id)) return; js = d.createElement(s); js.id = id; js.className = n; js.src = "https://stream.playbuzz.com/embed/sdk.js?embedId=8c8cbe52-80e8-468f-a95b-ce8f1f39546b"; fjs.parentNode.insertBefore(js, fjs); }(document,'script','playbuzz-stream','stream-sdk-jssdk_westernjournal.com_RSS'));","cat":"uncategorized"};
FFADS.debug = function( msg ) { if( document.location.href.search( 'ffads_debug=true' ) !== -1 ) { if( typeof msg !== 'undefined' ) console.log( JSON.parse( JSON.stringify( msg ) ) ); else console.log( 'undefined' ); } }
FFADS.content_order = ["SA1","WP1","BB1","Top","IC1","IC2","IC3","IC4","BA1"]; FFADS.sidebar_order = ["SB1","SB2","SB3","SB4","SB5"];
for( let ad_unit in FFADS.units ) if( ( FFADS.units[ad_unit].ad_type == 'dfp_prebid' || FFADS.units[ad_unit].ad_type == 'hybrid' ) && FFADS.units[ad_unit].size_mappings ) for( let i = 0; i < FFADS.units[ad_unit].size_mappings.length; i++ ) if( window.innerWidth >= FFADS.units[ad_unit].size_mappings[i].screen_width ) { if( FFADS.units[ad_unit].size_mappings[i].creative_sizes && FF_EXCLUDE_ADS.indexOf( ad_unit ) == -1 ) FFADS.units[ad_unit].sizes = FFADS.units[ad_unit].size_mappings[i].creative_sizes.map( function( sizeObj ) { return sizeObj.size.split( 'x' ).map( function( numString ) { return parseInt( numString ); } ); } ); break; }
let new_unit_obj = {}; for( let i in FFADS.content_order ) { FFADS.debug( 'Checking if ' + FFADS.content_order[i] + ' is valid on this page' ); let ad_unit = FFADS.content_order[i].split( '_' )[0]; if( FFADS.units[ad_unit] && ( FFADS.units[ad_unit].ad_type == 'custom' || FFADS.units[ad_unit].sizes ) ) new_unit_obj[ad_unit] = FFADS.units[ad_unit]; else { FFADS.debug( FFADS.content_order[i] + ' is not valid on this page. Removing it from content_order.' ); FFADS.content_order[i] = false; } } FFADS.content_order = FFADS.content_order.filter( function( ad_unit ) { return ad_unit && FFADS.units[ad_unit.split( '_' )[0]].lazy_load; } ); if( window.innerWidth >= 944 ) for( let i in FFADS.sidebar_order ) { FFADS.debug( 'Checking if ' + FFADS.sidebar_order[i] + ' is valid on this page' ); if( FFADS.units[FFADS.sidebar_order[i]].ad_type == 'custom' || FFADS.units[FFADS.sidebar_order[i]].sizes ) new_unit_obj[FFADS.sidebar_order[i]] = FFADS.units[FFADS.sidebar_order[i]]; else { FFADS.debug( FFADS.sidebar_order[i] + ' is not valid on this page. Removing it from sidebar_order.' ); FFADS.sidebar_order[i] = false; } } FFADS.sidebar_order = FFADS.sidebar_order.filter( function( ad_unit ) { return ad_unit && FFADS.units[ad_unit].lazy_load; } ); FFADS.units = new_unit_obj;
FFADS.all_bidders = {"adyoulike":{"nicename":"Adyoulike","params":["placement"]},"appnexus":{"nicename":"AppNexus","params":["placementId"]},"audienceNetwork":{"nicename":"Audience Network","params":["placementId","format"]},"ix":{"nicename":"Index Exchange","params":["siteId"],"array_params":["size"]},"justpremium":{"nicename":"JustPremium","params":["zone"],"array_params":["allow","exclude"]},"onedisplay":{"nicename":"Oath","params":["placement","network","bidFloor"]},"pubmatic":{"nicename":"PubMatic","params":["publisherId","adSlot"]},"rubicon":{"nicename":"Rubicon","params":["accountId","siteId","zoneId"]},"sovrn":{"nicename":"Sovrn","params":["tagid"]},"triplelift":{"nicename":"TripleLift","params":["inventoryCode"]},"underdogmedia":{"nicename":"Underdog Media","params":["siteId"]}};
FFADS.pb_units = []; for( let bidder in FFADS.all_bidders ) { FFADS.all_bidders[bidder].param_map = {}; for( let param in FFADS.all_bidders[bidder].params ) FFADS.all_bidders[bidder].param_map[FFADS.all_bidders[bidder].params[param].toLowerCase()] = FFADS.all_bidders[bidder].params[param]; for( let param in FFADS.all_bidders[bidder].array_params ) FFADS.all_bidders[bidder].param_map[FFADS.all_bidders[bidder].array_params[param].toLowerCase()] = FFADS.all_bidders[bidder].array_params[param]; } for( let ad_unit in FFADS.units ) { FFADS.debug( ad_unit + ' type: ' + FFADS.units[ad_unit].ad_type ); FFADS.debug( ad_unit + ' size mappings:' ); FFADS.debug( FFADS.units[ad_unit].size_mappings ); if( ( FFADS.units[ad_unit].ad_type == 'dfp_prebid' || FFADS.units[ad_unit].ad_type == 'hybrid' ) && FFADS.units[ad_unit].size_mappings ) { FFADS.debug( 'creating PB unit(s) for ' + ad_unit ); let bids = []; for( let i in FFADS.units[ad_unit].bidders ) if( FFADS.units[ad_unit].bidders[i].device_category == 'all' || FFADS.units[ad_unit].bidders[i].device_category == 'desktop' && window.innerWidth >= 944 || FFADS.units[ad_unit].bidders[i].device_category == 'mobile' && window.innerWidth < 944 ) { let params = {}; for( let param in FFADS.units[ad_unit].bidders[i] ) if( param.search( FFADS.units[ad_unit].bidders[i].name.toLowerCase() + '_' ) === 0 ) { let param_name_lower = param.split( '_' ).splice( 1 ).join( '_' ); let param_name = FFADS.all_bidders[FFADS.units[ad_unit].bidders[i].name].param_map[param_name_lower]; if( typeof FFADS.units[ad_unit].bidders[i][param] == 'object' ) { params[param_name] = []; for( let j in FFADS.units[ad_unit].bidders[i][param] ) params[param_name].push( parseInt( FFADS.units[ad_unit].bidders[i][param][j][param_name_lower] ) || FFADS.units[ad_unit].bidders[i][param][j][param_name_lower] ); } else params[param_name] = FFADS.units[ad_unit].bidders[i][param]; } bids.push( { bidder: FFADS.units[ad_unit].bidders[i].name, params: params } ); } if( FFADS.units[ad_unit].repeating ) for( let i = 0; i < FF_REP_COUNT; i++ ) FFADS.pb_units.push( { sizes: FFADS.units[ad_unit].sizes, bids: bids, code: 'REP_' + i } ); else if( FFADS.units[ad_unit].rep_count ) for( let i = 0; i < FFADS.units[ad_unit].rep_count; i++ ) FFADS.pb_units.push( { sizes: FFADS.units[ad_unit].sizes, bids: bids, code: ad_unit + '_' + i } ); else FFADS.pb_units.push( { sizes: FFADS.units[ad_unit].sizes, bids: bids, code: ad_unit } ); } FFADS.units[ad_unit].instances = {}; if( FFADS.units[ad_unit].repeating ) for( let i = 0; i < FF_REP_COUNT; i++ ) FFADS.units[ad_unit].instances['REP_' + i] = {}; else if( FFADS.units[ad_unit].rep_count ) for( let i = 0; i < FFADS.units[ad_unit].rep_count; i++ ) FFADS.units[ad_unit].instances[ad_unit + '_' + i] = {}; else FFADS.units[ad_unit].instances[ad_unit] = {}; } FFADS.prebid_timeout = window.innerWidth > 943 ? FFADS.desktop_bidding_timeout : FFADS.mobile_bidding_timeout;
FFADS.get_unit_path = function( ad_unit ) { return '/' + ( this.dfp_account_id || 101957818 ) + '/' + ad_unit + '_' + ( this.custom_unit_code || 'WJ' ) + ( typeof this.use_sx_units != 'undefined' && this.use_sx_units == 'yes' ? ( window.innerWidth > 943 ? '_LGSX' : '_SMSX' ) : '' ); } FFADS.pbjs_bids_back = function() { FFADS.debug( 'PB bids back for initial units' ); FFADS.pbjs_ready = true; if( FFADS.a9_ready ) return sendInitialAdserverRequest(); } FFADS.render_ad = function( ad_unit, div_id = false ) { div_id = div_id || ad_unit; this.debug( 'refreshing ' + ad_unit + ' into #' + div_id ); this.units[ad_unit].instances[div_id].displayed = true; if( this.units[ad_unit].ad_type == 'custom' ) eval( this.units[ad_unit].custom_ads[0].rendering_script ); else googletag.cmd.push( this.request_bids.bind( this, ad_unit, div_id ) ); } FFADS.request_bids = function( ad_unit, div_id = false ) { div_id = div_id || ad_unit;
this.debug( 'requesting bids for ' + ad_unit + ' in #' + div_id );
FFADS.units[ad_unit].instances[div_id].gt_slot = googletag.defineSlot( this.get_unit_path( ad_unit ), this.units[ad_unit].sizes, div_id ).addService( googletag.pubads() ); window['firefly_pbjs_ready' + div_id] = false, window['firefly_a9_ready' + div_id] = false;
pbjs.requestBids( { bidsBackHandler: firefly_pbjs_bids_back_single.bind( null, ad_unit, div_id ), adUnitCodes: [div_id] } );
setTimeout( sendSingleAdserverRequest.bind( FFADS, ad_unit, div_id ), FFADS.prebid_timeout );
apstag.fetchBids( { slots: [ { slotID: div_id, slotName: this.get_unit_path( ad_unit ), sizes: this.units[ad_unit].sizes } ] }, firefly_a9_bids_back_single.bind( null, ad_unit, div_id ) ); };
FFADS.lazy_load_check = function() { FFADS.debug( 'checking lazy load' );
let wnhc_j = jQuery( '#wj-network-header-container' + ( window.innerWidth < 944 ? ', .jw-above-container.stuck:not( .never-stick ) .jw-sticky-container' : '' ) ).last(); let wnhc = wnhc_j.length ? wnhc_j.offset().top + wnhc_j.outerHeight() : 0; FFADS.debug( 'WNHC bottom is ' + wnhc ); let slide_units = document.querySelectorAll( '.sponsor > div.fixed-size.sliding > div' ); for( let i = 0; i < slide_units.length; i++ ) { FFADS.debug( 'checking margin for' ); FFADS.debug( slide_units[i] ); if( ! slide_units[i].firstElementChild ) break; this_unit_j = jQuery( slide_units[i] ); let max_margin = slide_units[i].parentElement.offsetHeight - slide_units[i].firstElementChild.offsetHeight; FFADS.debug( 'max margin is ' + max_margin ); let distance = wnhc - this_unit_j.parent().offset().top; if( distance > max_margin ) { slide_units[i].style.position = 'static'; slide_units[i].style.paddingTop = max_margin + 'px'; } else if( distance < 0 ) { slide_units[i].style.position = 'static'; slide_units[i].style.paddingTop = '0px'; } else if( slide_units[i].style.position != 'fixed' ) { slide_units[i].style.left = jQuery( slide_units[i].firstChild ).offset().left + 'px'; slide_units[i].style.position = 'fixed'; slide_units[i].style.paddingTop = '0px'; slide_units[i].style.top = jQuery( '#wpadminbar' ).outerHeight() + jQuery( '#wj-network-header-container' ).outerHeight() + ( window.innerWidth < 944 ? jQuery( '.jw-above-container.stuck:not( .never-stick ) .jw-sticky-container' ).outerHeight() : 0 ) + 'px'; } } for( let i = 0; i < FFADS.content_order.length; i++ ) { let ad_unit_id = FFADS.content_order[i]; let ad_unit = ad_unit_id.split( '_' )[0]; if( ! FFADS.units[ad_unit].repeating ) { if( checkAlmostVisible( document.getElementById( ad_unit_id ), FFADS.lazy_load_threshold ) ) { FFADS.debug( ad_unit_id + ' is almost visible' ); FFADS.content_order.splice( i, 1 ); // splice first in case render_ad fails FFADS.render_ad( ad_unit, ad_unit_id ); } else break; } else for( var j = 0; j < FF_REP_COUNT; j++ ) { let div_id = 'REP_' + j; if( ! FFADS.units[ad_unit].instances[div_id].displayed ) { if( checkAlmostVisible( document.getElementById( div_id ), FFADS.lazy_load_threshold ) ) { FFADS.debug( div_id + ' is almost visible' ); if( j == FF_REP_COUNT - 1 ) FFADS.content_order.splice( i, 1 ); // splice first in case render_ad fails FFADS.render_ad( ad_unit, div_id ); } else break; } } } if( typeof ffsid != 'undefined' && ! FFADS.spot_im_displayed && checkAlmostVisible( document.getElementById( 'respond' ), FFADS.lazy_load_threshold ) ) { var ffrespond = document.getElementById( 'respond' ); var simscript1 = document.createElement( 'script' ); var simscript2 = document.createElement( 'script' ); simscript1.async = simscript2.async = 'async'; simscript1.type = simscript2.type = 'text/javascript'; simscript1.src = 'https://recirculation.spot.im/spot/' + ffsid; simscript2.src = 'https://launcher.spot.im/spot/' + ffsid; simscript2.dataset.spotimModule = 'spotim-launcher'; simscript2.dataset.postUrl = simscript2.dataset.facebookUrl = ffsurl; simscript2.dataset.postId = ffspid; ffrespond.appendChild( simscript1 ); ffrespond.appendChild( simscript2 ); FFADS.spot_im_displayed = true; } if( window.innerWidth > 943 ) for( let i = 0; i < FFADS.sidebar_order.length; i++ ) { let ad_unit_code = FFADS.sidebar_order[i]; if( checkAlmostVisible( document.getElementById( ad_unit_code ), FFADS.lazy_load_threshold ) ) { FFADS.debug( ad_unit_code + ' is almost visible' ); FFADS.sidebar_order.splice( i, 1 ); FFADS.render_ad( ad_unit_code ); } else break; } } var pbjs = pbjs || {}; pbjs.que = pbjs.que || [ function() { FFADS.debug( 'pbjs.que starting' ); } ]; pbjs.bidderSettings = { standard: { bidCpmAdjustment: function( bidCpm, bid ) { let screen_size = window.innerWidth < 944 ? 'SMSX' : 'LGSX'; let factor = 1.0; if( typeof FFADS.units[bid.adUnitCode].scales[screen_size][bid.bidderCode] != 'undefined' ){ factor -= FFADS.units[bid.adUnitCode].scales[screen_size][bid.bidderCode]; FFADS.debug( 'factor for ' + bid.bidderCode + ' in ' + bid.adUnitCode + ' set to ' + factor + '; bid changed from ' + bidCpm + ' to ' + ( bidCpm *= factor ) ); } return bidCpm; } } }; pbjs.que.push(function() { pbjs.enableAnalytics( { provider: 'roxot', options: { publisherIds: ["556182c7-ac68-4d56-8c66-4b4336e28e5e"] } } ); pbjs.setConfig( { priceGranularity: "high", userSync: { iframeEnabled: true, filterSettings: { iframe: { bidders: ['openx', 'pubmatic'], filter: 'include' } } } } ); FFADS.debug( 'adding units to PB' ); FFADS.debug( FFADS.pb_units ); pbjs.addAdUnits( FFADS.pb_units ); let adUnitCodes = []; for( let ad_unit in FFADS.units ) if( ! FFADS.units[ad_unit].lazy_load ) adUnitCodes.push( ad_unit ); FFADS.debug( 'requesting PB bids for initial units' ); pbjs.requestBids({ bidsBackHandler: FFADS.pbjs_bids_back, adUnitCodes: adUnitCodes }); }); function sendInitialAdserverRequest() { if( FFADS.initialAdserverRequestSent ) return; FFADS.initialAdserverRequestSent = true; FFADS.debug( 'queuing DFP request for initial units' ); googletag.cmd.push(function() { pbjs.que.push(function() { FFADS.debug( 'sending DFP request for initial units' ); let adUnitCodes = []; let dfpAdUnits = []; for( let ad_unit in FFADS.units ) if( ! FFADS.units[ad_unit].lazy_load ) { if( FFADS.units[ad_unit].ad_type == 'hybrid' ) { let pb_bid = pbjs.getHighestCpmBids( ad_unit ); pb_bid = pb_bid.length ? pb_bid[0].cpm : 0; FFADS.debug( 'Prebid bid ' + pb_bid + ' for ' + ad_unit ); if( pb_bid < FFADS.units[ad_unit].custom_ads[0].cpm ) { FFADS.debug( 'Custom code won for ' + ad_unit ); let el = false; if( el = document.getElementById( ad_unit ) ) { el.innerHTML = FFADS.units[ad_unit].custom_ads[0].code; eval( FFADS.units[ad_unit].custom_ads[0].rendering_script ); } else FFADS.debug( 'failed to render custom code in ' + ad_unit + ' since the unit is not on this page' ); continue; } } adUnitCodes.push( ad_unit ); dfpAdUnits.push( FFADS.units[ad_unit].instances[ad_unit].gt_slot ); } pbjs.setTargetingForGPTAsync( adUnitCodes ); apstag.setDisplayBids(); googletag.pubads().refresh( dfpAdUnits ); }); }); } FFADS.debug( 'scheduling DFP request for initial units' ); setTimeout( function() { sendInitialAdserverRequest(); }, FFADS.prebid_timeout ); (function () { var gads = document.createElement('script'); gads.async = true; gads.type = 'text/javascript'; var useSSL = 'https:' == document.location.protocol; gads.src = (useSSL ? 'https:' : 'http:') + '//www.googletagservices.com/tag/js/gpt.js'; var node = document.getElementsByTagName('script')[0]; node.parentNode.insertBefore(gads, node); })(); var googletag = googletag || {}; googletag.cmd = googletag.cmd || [ function() { FFADS.debug( 'googletag.cmd starting' ); } ]; googletag.cmd.push( function() { googletag.pubads().disableInitialLoad(); for( let ad_unit in FFADS.units ) if( ! FFADS.units[ad_unit].lazy_load && ( FFADS.units[ad_unit].ad_type == 'dfp_prebid' || FFADS.units[ad_unit].ad_type == 'hybrid' ) ) { FFADS.debug( 'defining slot for ' + ad_unit + ' #' + ad_unit ); FFADS.units[ad_unit].instances[ad_unit].gt_slot = googletag.defineSlot( FFADS.get_unit_path( ad_unit ), FFADS.units[ad_unit].sizes, ad_unit ).addService( googletag.pubads() ); } googletag.pubads().enableSingleRequest(); firefly_setTargeting(); googletag.pubads().setCentering(true); googletag.enableServices(); } ); function sendSingleAdserverRequest( ad_unit, div_id = false ) { div_id = div_id || ad_unit; if( FFADS.units[ad_unit].instances[div_id].adserverRequestSent ) return; FFADS.units[ad_unit].instances[div_id].adserverRequestSent = true; if( FFADS.units[ad_unit].ad_type == 'hybrid' ) { let pb_bid = pbjs.getHighestCpmBids( div_id ); pb_bid = pb_bid.length ? pb_bid[0].cpm : 0; FFADS.debug( 'Prebid bid ' + pb_bid + ' for #' + div_id ); if( pb_bid < FFADS.units[ad_unit].custom_ads[0].cpm ) { FFADS.debug( 'Custom code won for #' + div_id ); document.getElementById( div_id ).innerHTML = FFADS.units[ad_unit].custom_ads[0].code; eval( FFADS.units[ad_unit].custom_ads[0].rendering_script ); return; } } apstag.setDisplayBids(); pbjs.setTargetingForGPTAsync( [div_id] ); FFADS.debug( 'sending DFP request for ' + ad_unit + ' #' + div_id ); googletag.pubads().refresh( [FFADS.units[ad_unit].instances[div_id].gt_slot] ); } function firefly_pbjs_bids_back_single( ad_unit, div_id = false ) { div_id = div_id || ad_unit; FFADS.debug( 'PB bids back for ' + ad_unit + ' #' + div_id ); window['firefly_pbjs_ready' + ad_unit] = true; if( window['firefly_a9_ready' + ad_unit] ) return sendSingleAdserverRequest( ad_unit, div_id ); } function firefly_a9_bids_back_single( ad_unit, div_id = false ) { div_id = div_id || ad_unit; FFADS.debug( 'A9 bids back for ' + ad_unit + ' #' + div_id ); window['firefly_a9_ready' + ad_unit] = true; if( window['firefly_pbjs_ready' + ad_unit] ) return sendSingleAdserverRequest( ad_unit, div_id ); } !function(a9,a,p,s,t,A,g){if(a[a9])return;function q(c,r){a[a9]._Q.push([c,r])}a[a9]={init:function(){q("i",arguments)},fetchBids:function(){q("f",arguments)},setDisplayBids:function(){},targetingKeys:function(){return[]},_Q:[]};A=p.createElement(s);A.async=!0;A.src=t;g=p.getElementsByTagName(s)[0];g.parentNode.insertBefore(A,g)}("apstag",window,document,"script","//c.amazon-adsystem.com/aax2/apstag.js"); apstag.init({ pubID: 'da224ee9-07c8-4a80-87e4-528df4ac939e', adServer: 'googletag', bidTimeout: FFADS.prebid_timeout }); var a9_slot_arr = []; for( var ad_unit in FFADS.units ) { if( ! FFADS.units[ad_unit].lazy_load ) var a9_slot_arr = a9_slot_arr.concat( [ { slotID: ad_unit, slotName: FFADS.get_unit_path( ad_unit ), sizes: FFADS.units[ad_unit].sizes } ] ); }; FFADS.debug( 'requesting A9 bids for initial units' ); apstag.fetchBids( { slots: a9_slot_arr }, function( bids ) { FFADS.debug( 'A9 bids back for initial units' ); FFADS.a9_ready = true; if( FFADS.pbjs_ready ) return sendInitialAdserverRequest(); } );