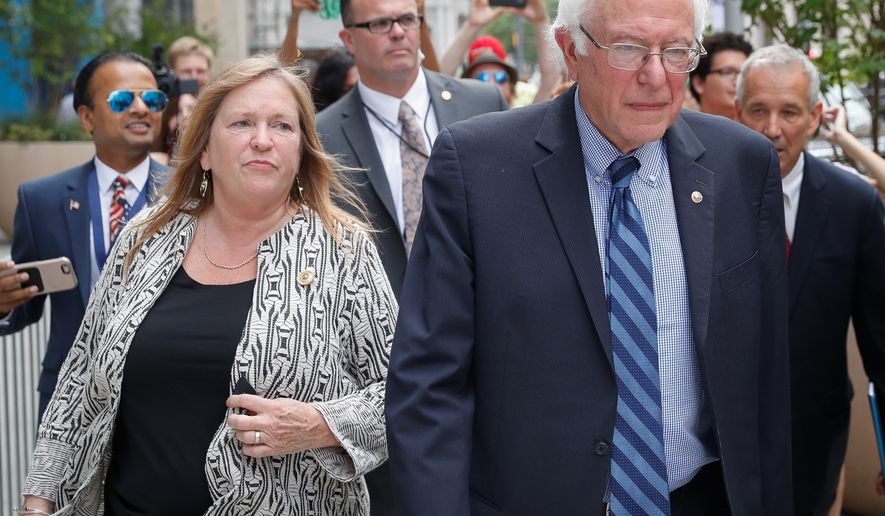 Sen. Bernard Sanders has built a political career on railing against the shady ways of the financial industry. Now he and his wife are the ones facing accusations of shady dealings.
The Vermont power couple has become the focus of a federal investigation into whether Jane O'Meara Sanders committed bank fraud as president of Burlington College and whether Mr. Sanders' office played a role.
The probe threatens to undermine the populist message that Mr. Sanders has come to epitomize for political liberals, and which fueled his strong second-place showing in the 2016 Democratic presidential primary.
For now, the same progressive groups that used to leap to defend Mr. Sanders have gone silent in the face of the accusations and after Mr. Sanders' decision to lawyer up and deflect questions about his financial dealings.
Mr. Sanders has brushed aside the attacks as politically motivated.
But VTDigger.org, a local news website, confirmed in April that the FBI and U.S. attorney were looking into a land deal that Mrs. Sanders engineered in 2010, receiving a $6.5 million loan from People's United Bank to purchase tax-exempt bonds issued by a state agency, and a $3.65 million loan from the Roman Catholic Diocese of Burlington to buy 33 acres of lakefront property for the school.
Brady Toensing, a Republican operative in the state who filed complaints asking for the FBI probe in early 2016, said Mrs. Sanders exaggerated the amount of pledged donations coming into the school in order to secure the loan and that Mr. Sanders' office pressured the bank to green-light the deal.