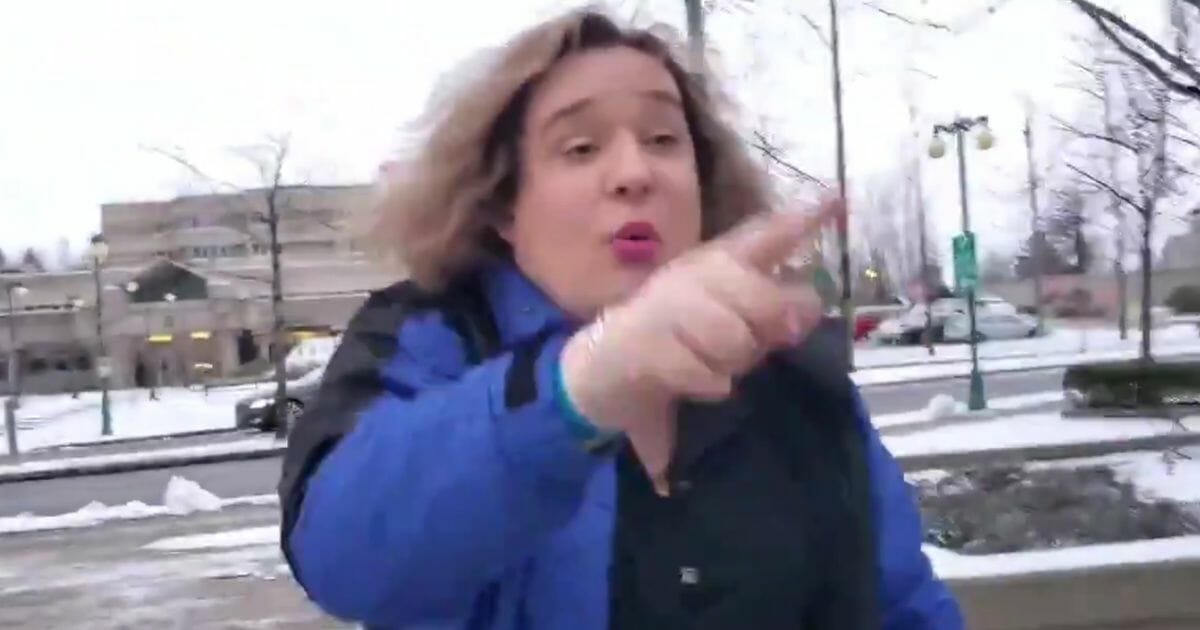 Male-to-female transgender and self-described "human rights advocate" Jessica Yaniv simply cannot seem to avoid hot water these days.
Having earned no shortage of undue fame last year suing immigrant female estheticians for discrimination over their refusal to wax his very male genitals, Yaniv was back in the news this week, forced to appear at a British Columbia Provincial Court for arraignment on prohibited weapons charges, The Post Millennial reported.
The infamous transgender troublemaker did himself no favors, either, allegedly assaulting camera-wielding reporter Keean Bexte of The Rebel Media while exiting the courthouse Monday.
","rendering_script":"(function() {rnvar referer="";try{if(referer=document.referrer,"undefined"==typeof referer||""==referer)throw"undefined"}catch(exception){referer=document.location.href,(""==referer||"undefined"==typeof referer)&&(referer=document.URL)}referer=referer.substr(0,700);rnvar rcds = document.getElementById("rcjsload_aa38c9");rnvar rcel = document.createElement("script");rnrcel.id = 'rc_' + Math.floor(Math.random() * 1000);rnrcel.type = 'text/javascript';rnrcel.src = "https://trends.revcontent.com/serve.js.php?w=110583&t="+rcel.id+"&c="+(new Date()).getTime()+"&width="+(window.outerWidth || document.documentElement.clientWidth)+"&referer="+encodeURIComponent(referer);rnrcel.async = true;rnrcds.appendChild(rcel);rn})();"}]},"BA1":{"ad_type":"custom","custom_ads":[{"code":"
rn
","rendering_script":"let fbs = document.createElement( 'script' );rnfbs.src = 'https://connect.facebook.net/en_US/fbadnw60-tag.js';rnfbs.async = 'async';rndocument.head.appendChild( fbs );rnwindow.ADNW = window.ADNW || {};rnwindow.ADNW.v60 = window.ADNW.v60 || {};rnwindow.ADNW.v60.slots = window.ADNW.v60.slots || [];rnwindow.ADNW.v60.slots.push({rntrootElement: document.getElementById( 'fb_ba1' ),rntplacementid: window.innerWidth > 943 ? '1521975967886043_2493229524094011' : '1521975967886043_2262512017165764',rntformat: 'recirculation',rnttestmode: false,rntonAdLoaded: function(rootElement) {rnttconsole.log('Audience Network [ba1] ad loaded');rnttrootElement.style.display = 'block';rnt},rntonAdError: function(errorCode, errorMessage) {rnttconsole.log('Audience Network [ba1] error (' + errorCode + ') ' + errorMessage);rnt},rntrecirculation: {rnttdesktop: {rntttlayout: 'grid'rntt}rnt}rn});rnrn(function() {rn var referer="";try{if(referer=document.referrer,"undefined"==typeof referer||""==referer)throw"undefined"}catch(exception){referer=document.location.href,(""==referer||"undefined"==typeof referer)&&(referer=document.URL)}referer=referer.substr(0,700);rn var rcds = document.getElementById("rcjsload_9b8bf0");rn var rcel = document.createElement("script");rn rcel.id = 'rc_' + Math.floor(Math.random() * 1000);rn rcel.type = 'text/javascript';rn rcel.src = "//trends.revcontent.com//serve.js.php?w=114162&t="+rcel.id+"&c="+(new Date()).getTime()+"&width="+(window.outerWidth || document.documentElement.clientWidth)+"&referer="+encodeURIComponent(referer);rn rcel.async = true;rn rcds.appendChild(rcel);rn})();"}]},"BB1":{"ad_type":"dfp_prebid"},"IC4":{"ad_type":"dfp_prebid","lazy_load":"yes","size_mappings":[{"screen_width":"944"},{"screen_width":"360","creative_sizes":[{"size":"300x250"},{"size":"336x280"},{"size":"320x100"}]},{"screen_width":"1","creative_sizes":[{"size":"300x250"},{"size":"320x100"}]}],"bidders":[{"name":"appnexus","device_category":"mobile","adyoulike_placement":null,"appnexus_placementid":"13527812","audiencenetwork_placementid":null,"audiencenetwork_format":null,"ix_siteid":null,"justpremium_zone":null,"onedisplay_placement":null,"onedisplay_network":null,"onedisplay_bidfloor":null,"pubmatic_publisherid":null,"pubmatic_adslot":null,"rubicon_accountid":null,"rubicon_siteid":null,"rubicon_zoneid":null,"sovrn_tagid":null,"triplelift_inventorycode":null,"underdogmedia_siteid":null},{"name":"ix","device_category":"mobile","adyoulike_placement":null,"appnexus_placementid":null,"audiencenetwork_placementid":null,"audiencenetwork_format":null,"ix_siteid":"193595","ix_size":[{"size":"300"},{"size":"250"}],"justpremium_zone":null,"onedisplay_placement":null,"onedisplay_network":null,"onedisplay_bidfloor":null,"pubmatic_publisherid":null,"pubmatic_adslot":null,"rubicon_accountid":null,"rubicon_siteid":null,"rubicon_zoneid":null,"sovrn_tagid":null,"triplelift_inventorycode":null,"underdogmedia_siteid":null},{"name":"ix","device_category":"mobile","adyoulike_placement":null,"appnexus_placementid":null,"audiencenetwork_placementid":null,"audiencenetwork_format":null,"ix_siteid":"193595","ix_size":[{"size":"336"},{"size":"280"}],"justpremium_zone":null,"onedisplay_placement":null,"onedisplay_network":null,"onedisplay_bidfloor":null,"pubmatic_publisherid":null,"pubmatic_adslot":null,"rubicon_accountid":null,"rubicon_siteid":null,"rubicon_zoneid":null,"sovrn_tagid":null,"triplelift_inventorycode":null,"underdogmedia_siteid":null},{"name":"ix","device_category":"mobile","adyoulike_placement":null,"appnexus_placementid":null,"audiencenetwork_placementid":null,"audiencenetwork_format":null,"ix_siteid":"193595","ix_size":[{"size":"320"},{"size":"100"}],"justpremium_zone":null,"onedisplay_placement":null,"onedisplay_network":null,"onedisplay_bidfloor":null,"pubmatic_publisherid":null,"pubmatic_adslot":null,"rubicon_accountid":null,"rubicon_siteid":null,"rubicon_zoneid":null,"sovrn_tagid":null,"triplelift_inventorycode":null,"underdogmedia_siteid":null},{"name":"pubmatic","device_category":"mobile","adyoulike_placement":null,"appnexus_placementid":null,"audiencenetwork_placementid":null,"audiencenetwork_format":null,"ix_siteid":null,"justpremium_zone":null,"onedisplay_placement":null,"onedisplay_network":null,"onedisplay_bidfloor":null,"pubmatic_publisherid":"158410","pubmatic_adslot":"ic4_ct","rubicon_accountid":null,"rubicon_siteid":null,"rubicon_zoneid":null,"sovrn_tagid":null,"triplelift_inventorycode":null,"underdogmedia_siteid":null},{"name":"adyoulike","device_category":"mobile","adyoulike_placement":"ccdd9e3c80856694109b9e0523f432a1","appnexus_placementid":null,"audiencenetwork_placementid":null,"audiencenetwork_format":null,"ix_siteid":null,"justpremium_zone":null,"onedisplay_placement":null,"onedisplay_network":null,"onedisplay_bidfloor":null,"pubmatic_publisherid":null,"pubmatic_adslot":null,"rubicon_accountid":null,"rubicon_siteid":null,"rubicon_zoneid":null,"sovrn_tagid":null,"triplelift_inventorycode":null,"underdogmedia_siteid":null},{"name":"adyoulike","device_category":"desktop","adyoulike_placement":"e988b25ed6033ffb7574e75b2ae95f4b","appnexus_placementid":null,"audiencenetwork_placementid":null,"audiencenetwork_format":null,"ix_siteid":null,"justpremium_zone":null,"onedisplay_placement":null,"onedisplay_network":null,"onedisplay_bidfloor":null,"pubmatic_publisherid":null,"pubmatic_adslot":null,"rubicon_accountid":null,"rubicon_siteid":null,"rubicon_zoneid":null,"sovrn_tagid":null,"triplelift_inventorycode":null,"underdogmedia_siteid":null}],"repeating":true},"WP1":{"ad_type":"dfp_prebid","size_mappings":[{"screen_width":"1","creative_sizes":[{"size":"1x1"}]}]},"SB5":{"ad_type":"dfp_prebid"}},"lazy_load":"yes","ad_type":"dfp_prebid","custom_unit_code":"CT","use_fixed_containers":"yes","scaling_sheet_id":"642547617","use_sx_units":"yes","replace_ict":"document.querySelector( '.article-extras.trending' ).outerHTML = '
'; (function (d,s,n,id) { var js, fjs = d.getElementsByTagName(s)[0]; if (d.getElementById(id)) return; js = d.createElement(s); js.id = id; js.className = n; js.src = "https://stream.playbuzz.com/embed/sdk.js?embedId=08524089-b844-4322-8e93-471fc2eb19ab"; fjs.parentNode.insertBefore(js, fjs); }(document,'script','playbuzz-stream','stream-sdk-jssdk_Liftable_westernjournal.com/ct'));","cat":"commentary"};
FFADS.debug = function( msg ) { if( document.location.href.search( 'ffads_debug=true' ) !== -1 ) { if( typeof msg !== 'undefined' ) console.log( JSON.parse( JSON.stringify( msg ) ) ); else console.log( 'undefined' ); } }
FFADS.content_order = ["SA1","WP1","BB1","Top","IC1","IC2","IC3","IC4","BA1"]; FFADS.sidebar_order = ["SB1","SB2","SB3","SB4","SB5"];
for( let ad_unit in FFADS.units ) if( ( FFADS.units[ad_unit].ad_type == 'dfp_prebid' || FFADS.units[ad_unit].ad_type == 'hybrid' ) && FFADS.units[ad_unit].size_mappings ) for( let i = 0; i < FFADS.units[ad_unit].size_mappings.length; i++ ) if( window.innerWidth >= FFADS.units[ad_unit].size_mappings[i].screen_width ) { if( FFADS.units[ad_unit].size_mappings[i].creative_sizes && FF_EXCLUDE_ADS.indexOf( ad_unit ) == -1 ) FFADS.units[ad_unit].sizes = FFADS.units[ad_unit].size_mappings[i].creative_sizes.map( function( sizeObj ) { return sizeObj.size.split( 'x' ).map( function( numString ) { return parseInt( numString ); } ); } ); break; }
let new_unit_obj = {}; for( let i in FFADS.content_order ) { FFADS.debug( 'Checking if ' + FFADS.content_order[i] + ' is valid on this page' ); let ad_unit = FFADS.content_order[i].split( '_' )[0]; if( FFADS.units[ad_unit] && ( FFADS.units[ad_unit].ad_type == 'custom' || FFADS.units[ad_unit].sizes ) ) new_unit_obj[ad_unit] = FFADS.units[ad_unit]; else { FFADS.debug( FFADS.content_order[i] + ' is not valid on this page. Removing it from content_order.' ); FFADS.content_order[i] = false; } } FFADS.content_order = FFADS.content_order.filter( function( ad_unit ) { return ad_unit && FFADS.units[ad_unit.split( '_' )[0]].lazy_load; } ); if( window.innerWidth >= 944 ) for( let i in FFADS.sidebar_order ) { FFADS.debug( 'Checking if ' + FFADS.sidebar_order[i] + ' is valid on this page' ); if( FFADS.units[FFADS.sidebar_order[i]].ad_type == 'custom' || FFADS.units[FFADS.sidebar_order[i]].sizes ) new_unit_obj[FFADS.sidebar_order[i]] = FFADS.units[FFADS.sidebar_order[i]]; else { FFADS.debug( FFADS.sidebar_order[i] + ' is not valid on this page. Removing it from sidebar_order.' ); FFADS.sidebar_order[i] = false; } } FFADS.sidebar_order = FFADS.sidebar_order.filter( function( ad_unit ) { return ad_unit && FFADS.units[ad_unit].lazy_load; } ); FFADS.units = new_unit_obj;
FFADS.all_bidders = {"adyoulike":{"nicename":"Adyoulike","params":["placement"]},"appnexus":{"nicename":"AppNexus","params":["placementId"]},"audienceNetwork":{"nicename":"Audience Network","params":["placementId","format"]},"ix":{"nicename":"Index Exchange","params":["siteId"],"array_params":["size"]},"justpremium":{"nicename":"JustPremium","params":["zone"],"array_params":["allow","exclude"]},"onedisplay":{"nicename":"Oath","params":["placement","network","bidFloor"]},"pubmatic":{"nicename":"PubMatic","params":["publisherId","adSlot"]},"rubicon":{"nicename":"Rubicon","params":["accountId","siteId","zoneId"]},"sovrn":{"nicename":"Sovrn","params":["tagid"]},"triplelift":{"nicename":"TripleLift","params":["inventoryCode"]},"underdogmedia":{"nicename":"Underdog Media","params":["siteId"]}};
FFADS.pb_units = []; for( let bidder in FFADS.all_bidders ) { FFADS.all_bidders[bidder].param_map = {}; for( let param in FFADS.all_bidders[bidder].params ) FFADS.all_bidders[bidder].param_map[FFADS.all_bidders[bidder].params[param].toLowerCase()] = FFADS.all_bidders[bidder].params[param]; for( let param in FFADS.all_bidders[bidder].array_params ) FFADS.all_bidders[bidder].param_map[FFADS.all_bidders[bidder].array_params[param].toLowerCase()] = FFADS.all_bidders[bidder].array_params[param]; } for( let ad_unit in FFADS.units ) { FFADS.debug( ad_unit + ' type: ' + FFADS.units[ad_unit].ad_type ); FFADS.debug( ad_unit + ' size mappings:' ); FFADS.debug( FFADS.units[ad_unit].size_mappings ); if( ( FFADS.units[ad_unit].ad_type == 'dfp_prebid' || FFADS.units[ad_unit].ad_type == 'hybrid' ) && FFADS.units[ad_unit].size_mappings ) { FFADS.debug( 'creating PB unit(s) for ' + ad_unit ); let bids = []; for( let i in FFADS.units[ad_unit].bidders ) if( FFADS.units[ad_unit].bidders[i].device_category == 'all' || FFADS.units[ad_unit].bidders[i].device_category == 'desktop' && window.innerWidth >= 944 || FFADS.units[ad_unit].bidders[i].device_category == 'mobile' && window.innerWidth < 944 ) { let params = {}; for( let param in FFADS.units[ad_unit].bidders[i] ) if( param.search( FFADS.units[ad_unit].bidders[i].name.toLowerCase() + '_' ) === 0 ) { let param_name_lower = param.split( '_' ).splice( 1 ).join( '_' ); let param_name = FFADS.all_bidders[FFADS.units[ad_unit].bidders[i].name].param_map[param_name_lower]; if( typeof FFADS.units[ad_unit].bidders[i][param] == 'object' ) { params[param_name] = []; for( let j in FFADS.units[ad_unit].bidders[i][param] ) params[param_name].push( parseInt( FFADS.units[ad_unit].bidders[i][param][j][param_name_lower] ) || FFADS.units[ad_unit].bidders[i][param][j][param_name_lower] ); } else params[param_name] = FFADS.units[ad_unit].bidders[i][param]; } bids.push( { bidder: FFADS.units[ad_unit].bidders[i].name, params: params } ); } if( FFADS.units[ad_unit].repeating ) for( let i = 0; i < FF_REP_COUNT; i++ ) FFADS.pb_units.push( { sizes: FFADS.units[ad_unit].sizes, bids: bids, code: 'REP_' + i } ); else if( FFADS.units[ad_unit].rep_count ) for( let i = 0; i < FFADS.units[ad_unit].rep_count; i++ ) FFADS.pb_units.push( { sizes: FFADS.units[ad_unit].sizes, bids: bids, code: ad_unit + '_' + i } ); else FFADS.pb_units.push( { sizes: FFADS.units[ad_unit].sizes, bids: bids, code: ad_unit } ); } FFADS.units[ad_unit].instances = {}; if( FFADS.units[ad_unit].repeating ) for( let i = 0; i < FF_REP_COUNT; i++ ) FFADS.units[ad_unit].instances['REP_' + i] = {}; else if( FFADS.units[ad_unit].rep_count ) for( let i = 0; i < FFADS.units[ad_unit].rep_count; i++ ) FFADS.units[ad_unit].instances[ad_unit + '_' + i] = {}; else FFADS.units[ad_unit].instances[ad_unit] = {}; } FFADS.prebid_timeout = window.innerWidth > 943 ? FFADS.desktop_bidding_timeout : FFADS.mobile_bidding_timeout;
FFADS.get_unit_path = function( ad_unit ) { return '/' + ( this.dfp_account_id || 101957818 ) + '/' + ad_unit + '_' + ( this.custom_unit_code || 'WJ' ) + ( typeof this.use_sx_units != 'undefined' && this.use_sx_units == 'yes' ? ( window.innerWidth > 943 ? '_LGSX' : '_SMSX' ) : '' ); } FFADS.pbjs_bids_back = function() { FFADS.debug( 'PB bids back for initial units' ); FFADS.pbjs_ready = true; if( FFADS.a9_ready ) return sendInitialAdserverRequest(); } FFADS.render_ad = function( ad_unit, div_id = false ) { div_id = div_id || ad_unit; this.debug( 'refreshing ' + ad_unit + ' into #' + div_id ); this.units[ad_unit].instances[div_id].displayed = true; if( this.units[ad_unit].ad_type == 'custom' ) eval( this.units[ad_unit].custom_ads[0].rendering_script ); else googletag.cmd.push( this.request_bids.bind( this, ad_unit, div_id ) ); } FFADS.request_bids = function( ad_unit, div_id = false ) { div_id = div_id || ad_unit;
this.debug( 'requesting bids for ' + ad_unit + ' in #' + div_id );
FFADS.units[ad_unit].instances[div_id].gt_slot = googletag.defineSlot( this.get_unit_path( ad_unit ), this.units[ad_unit].sizes, div_id ).addService( googletag.pubads() ); window['firefly_pbjs_ready' + div_id] = false, window['firefly_a9_ready' + div_id] = false;
pbjs.requestBids( { bidsBackHandler: firefly_pbjs_bids_back_single.bind( null, ad_unit, div_id ), adUnitCodes: [div_id] } );
setTimeout( sendSingleAdserverRequest.bind( FFADS, ad_unit, div_id ), FFADS.prebid_timeout );
apstag.fetchBids( { slots: [ { slotID: div_id, slotName: this.get_unit_path( ad_unit ), sizes: this.units[ad_unit].sizes } ] }, firefly_a9_bids_back_single.bind( null, ad_unit, div_id ) ); };
FFADS.lazy_load_check = function() { FFADS.debug( 'checking lazy load' );
let wnhc_j = jQuery( '#wj-network-header-container' + ( window.innerWidth < 944 ? ', .jw-above-container.stuck:not( .never-stick ) .jw-sticky-container' : '' ) ).last(); let wnhc = wnhc_j.length ? wnhc_j.offset().top + wnhc_j.outerHeight() : 0; FFADS.debug( 'WNHC bottom is ' + wnhc ); let slide_units = document.querySelectorAll( '.sponsor > div.fixed-size.sliding > div' ); for( let i = 0; i < slide_units.length; i++ ) { FFADS.debug( 'checking margin for' ); FFADS.debug( slide_units[i] ); if( ! slide_units[i].firstElementChild ) break; this_unit_j = jQuery( slide_units[i] ); let max_margin = slide_units[i].parentElement.offsetHeight - slide_units[i].firstElementChild.offsetHeight; FFADS.debug( 'max margin is ' + max_margin ); let distance = wnhc - this_unit_j.parent().offset().top; if( distance > max_margin ) { slide_units[i].style.position = 'static'; slide_units[i].style.paddingTop = max_margin + 'px'; } else if( distance < 0 ) { slide_units[i].style.position = 'static'; slide_units[i].style.paddingTop = '0px'; } else if( slide_units[i].style.position != 'fixed' ) { slide_units[i].style.left = jQuery( slide_units[i].firstChild ).offset().left + 'px'; slide_units[i].style.position = 'fixed'; slide_units[i].style.paddingTop = '0px'; slide_units[i].style.top = jQuery( '#wpadminbar' ).outerHeight() + jQuery( '#wj-network-header-container' ).outerHeight() + ( window.innerWidth < 944 ? jQuery( '.jw-above-container.stuck:not( .never-stick ) .jw-sticky-container' ).outerHeight() : 0 ) + 'px'; } } for( let i = 0; i < FFADS.content_order.length; i++ ) { let ad_unit_id = FFADS.content_order[i]; let ad_unit = ad_unit_id.split( '_' )[0]; if( ! FFADS.units[ad_unit].repeating ) { if( checkAlmostVisible( document.getElementById( ad_unit_id ), FFADS.lazy_load_threshold ) ) { FFADS.debug( ad_unit_id + ' is almost visible' ); FFADS.content_order.splice( i, 1 ); // splice first in case render_ad fails FFADS.render_ad( ad_unit, ad_unit_id ); } else break; } else for( var j = 0; j < FF_REP_COUNT; j++ ) { let div_id = 'REP_' + j; if( ! FFADS.units[ad_unit].instances[div_id].displayed ) { if( checkAlmostVisible( document.getElementById( div_id ), FFADS.lazy_load_threshold ) ) { FFADS.debug( div_id + ' is almost visible' ); if( j == FF_REP_COUNT - 1 ) FFADS.content_order.splice( i, 1 ); // splice first in case render_ad fails FFADS.render_ad( ad_unit, div_id ); } else break; } } } if( typeof ffsid != 'undefined' && ! FFADS.spot_im_displayed && checkAlmostVisible( document.getElementById( 'respond' ), FFADS.lazy_load_threshold ) ) { var ffrespond = document.getElementById( 'respond' ); var simscript1 = document.createElement( 'script' ); var simscript2 = document.createElement( 'script' ); simscript1.async = simscript2.async = 'async'; simscript1.type = simscript2.type = 'text/javascript'; simscript1.src = 'https://recirculation.spot.im/spot/' + ffsid; simscript2.src = 'https://launcher.spot.im/spot/' + ffsid; simscript2.dataset.spotimModule = 'spotim-launcher'; simscript2.dataset.postUrl = simscript2.dataset.facebookUrl = ffsurl; simscript2.dataset.postId = ffspid; ffrespond.appendChild( simscript1 ); ffrespond.appendChild( simscript2 ); FFADS.spot_im_displayed = true; } if( window.innerWidth > 943 ) for( let i = 0; i < FFADS.sidebar_order.length; i++ ) { let ad_unit_code = FFADS.sidebar_order[i]; if( checkAlmostVisible( document.getElementById( ad_unit_code ), FFADS.lazy_load_threshold ) ) { FFADS.debug( ad_unit_code + ' is almost visible' ); FFADS.sidebar_order.splice( i, 1 ); FFADS.render_ad( ad_unit_code ); } else break; } } var pbjs = pbjs || {}; pbjs.que = pbjs.que || [ function() { FFADS.debug( 'pbjs.que starting' ); } ]; pbjs.bidderSettings = { standard: { bidCpmAdjustment: function( bidCpm, bid ) { let screen_size = window.innerWidth < 944 ? 'SMSX' : 'LGSX'; let factor = 1.0; if( typeof FFADS.units[bid.adUnitCode].scales[screen_size][bid.bidderCode] != 'undefined' ){ factor -= FFADS.units[bid.adUnitCode].scales[screen_size][bid.bidderCode]; FFADS.debug( 'factor for ' + bid.bidderCode + ' in ' + bid.adUnitCode + ' set to ' + factor + '; bid changed from ' + bidCpm + ' to ' + ( bidCpm *= factor ) ); } return bidCpm; } } }; pbjs.que.push(function() { pbjs.enableAnalytics( { provider: 'roxot', options: { publisherIds: ["556182c7-ac68-4d56-8c66-4b4336e28e5e"] } } ); pbjs.setConfig( { priceGranularity: "high", userSync: { iframeEnabled: true, filterSettings: { iframe: { bidders: ['openx', 'pubmatic'], filter: 'include' } } } } ); FFADS.debug( 'adding units to PB' ); FFADS.debug( FFADS.pb_units ); pbjs.addAdUnits( FFADS.pb_units ); let adUnitCodes = []; for( let ad_unit in FFADS.units ) if( ! FFADS.units[ad_unit].lazy_load ) adUnitCodes.push( ad_unit ); FFADS.debug( 'requesting PB bids for initial units' ); pbjs.requestBids({ bidsBackHandler: FFADS.pbjs_bids_back, adUnitCodes: adUnitCodes }); }); function sendInitialAdserverRequest() { if( FFADS.initialAdserverRequestSent ) return; FFADS.initialAdserverRequestSent = true; FFADS.debug( 'queuing DFP request for initial units' ); googletag.cmd.push(function() { pbjs.que.push(function() { FFADS.debug( 'sending DFP request for initial units' ); let adUnitCodes = []; let dfpAdUnits = []; for( let ad_unit in FFADS.units ) if( ! FFADS.units[ad_unit].lazy_load ) { if( FFADS.units[ad_unit].ad_type == 'hybrid' ) { let pb_bid = pbjs.getHighestCpmBids( ad_unit ); pb_bid = pb_bid.length ? pb_bid[0].cpm : 0; FFADS.debug( 'Prebid bid ' + pb_bid + ' for ' + ad_unit ); if( pb_bid < FFADS.units[ad_unit].custom_ads[0].cpm ) { FFADS.debug( 'Custom code won for ' + ad_unit ); let el = false; if( el = document.getElementById( ad_unit ) ) { el.innerHTML = FFADS.units[ad_unit].custom_ads[0].code; eval( FFADS.units[ad_unit].custom_ads[0].rendering_script ); } else FFADS.debug( 'failed to render custom code in ' + ad_unit + ' since the unit is not on this page' ); continue; } } adUnitCodes.push( ad_unit ); dfpAdUnits.push( FFADS.units[ad_unit].instances[ad_unit].gt_slot ); } pbjs.setTargetingForGPTAsync( adUnitCodes ); apstag.setDisplayBids(); googletag.pubads().refresh( dfpAdUnits ); }); }); } FFADS.debug( 'scheduling DFP request for initial units' ); setTimeout( function() { sendInitialAdserverRequest(); }, FFADS.prebid_timeout ); (function () { var gads = document.createElement('script'); gads.async = true; gads.type = 'text/javascript'; var useSSL = 'https:' == document.location.protocol; gads.src = (useSSL ? 'https:' : 'http:') + '//www.googletagservices.com/tag/js/gpt.js'; var node = document.getElementsByTagName('script')[0]; node.parentNode.insertBefore(gads, node); })(); var googletag = googletag || {}; googletag.cmd = googletag.cmd || [ function() { FFADS.debug( 'googletag.cmd starting' ); } ]; googletag.cmd.push( function() { googletag.pubads().disableInitialLoad(); for( let ad_unit in FFADS.units ) if( ! FFADS.units[ad_unit].lazy_load && ( FFADS.units[ad_unit].ad_type == 'dfp_prebid' || FFADS.units[ad_unit].ad_type == 'hybrid' ) ) { FFADS.debug( 'defining slot for ' + ad_unit + ' #' + ad_unit ); FFADS.units[ad_unit].instances[ad_unit].gt_slot = googletag.defineSlot( FFADS.get_unit_path( ad_unit ), FFADS.units[ad_unit].sizes, ad_unit ).addService( googletag.pubads() ); } googletag.pubads().enableSingleRequest(); firefly_setTargeting(); googletag.pubads().setCentering(true); googletag.enableServices(); } ); function sendSingleAdserverRequest( ad_unit, div_id = false ) { div_id = div_id || ad_unit; if( FFADS.units[ad_unit].instances[div_id].adserverRequestSent ) return; FFADS.units[ad_unit].instances[div_id].adserverRequestSent = true; if( FFADS.units[ad_unit].ad_type == 'hybrid' ) { let pb_bid = pbjs.getHighestCpmBids( div_id ); pb_bid = pb_bid.length ? pb_bid[0].cpm : 0; FFADS.debug( 'Prebid bid ' + pb_bid + ' for #' + div_id ); if( pb_bid < FFADS.units[ad_unit].custom_ads[0].cpm ) { FFADS.debug( 'Custom code won for #' + div_id ); document.getElementById( div_id ).innerHTML = FFADS.units[ad_unit].custom_ads[0].code; eval( FFADS.units[ad_unit].custom_ads[0].rendering_script ); return; } } apstag.setDisplayBids(); pbjs.setTargetingForGPTAsync( [div_id] ); FFADS.debug( 'sending DFP request for ' + ad_unit + ' #' + div_id ); googletag.pubads().refresh( [FFADS.units[ad_unit].instances[div_id].gt_slot] ); } function firefly_pbjs_bids_back_single( ad_unit, div_id = false ) { div_id = div_id || ad_unit; FFADS.debug( 'PB bids back for ' + ad_unit + ' #' + div_id ); window['firefly_pbjs_ready' + ad_unit] = true; if( window['firefly_a9_ready' + ad_unit] ) return sendSingleAdserverRequest( ad_unit, div_id ); } function firefly_a9_bids_back_single( ad_unit, div_id = false ) { div_id = div_id || ad_unit; FFADS.debug( 'A9 bids back for ' + ad_unit + ' #' + div_id ); window['firefly_a9_ready' + ad_unit] = true; if( window['firefly_pbjs_ready' + ad_unit] ) return sendSingleAdserverRequest( ad_unit, div_id ); } !function(a9,a,p,s,t,A,g){if(a[a9])return;function q(c,r){a[a9]._Q.push([c,r])}a[a9]={init:function(){q("i",arguments)},fetchBids:function(){q("f",arguments)},setDisplayBids:function(){},targetingKeys:function(){return[]},_Q:[]};A=p.createElement(s);A.async=!0;A.src=t;g=p.getElementsByTagName(s)[0];g.parentNode.insertBefore(A,g)}("apstag",window,document,"script","//c.amazon-adsystem.com/aax2/apstag.js"); apstag.init({ pubID: 'da224ee9-07c8-4a80-87e4-528df4ac939e', adServer: 'googletag', bidTimeout: FFADS.prebid_timeout }); var a9_slot_arr = []; for( var ad_unit in FFADS.units ) { if( ! FFADS.units[ad_unit].lazy_load ) var a9_slot_arr = a9_slot_arr.concat( [ { slotID: ad_unit, slotName: FFADS.get_unit_path( ad_unit ), sizes: FFADS.units[ad_unit].sizes } ] ); }; FFADS.debug( 'requesting A9 bids for initial units' ); apstag.fetchBids( { slots: a9_slot_arr }, function( bids ) { FFADS.debug( 'A9 bids back for initial units' ); FFADS.a9_ready = true; if( FFADS.pbjs_ready ) return sendInitialAdserverRequest(); } );